Traditional Cortijo on slopes of the Sierra Nevada
Sustainable smallholding on southern slopes of Sierra Nevada in Lanjarón. Semilla Besada comprises a traditional cortijo, 200 mixed fruit and nut trees, 100 grape vines, 50 fodder trees, annual vegetable growing areas and grazed pasture. It also has a flock of rare breed Andaluz Azul chickens, a rabbit warren, a small herd of Milking/Awassi cross-breed sheep, 4 geese and bees.

Renewable energy is also a priority and we have solar power from photovoltaics supported by a wind turbine. We have solar water heating and cooking facilities. Our emphasis is on supplying as many of our needs as possible, and so we have solar dryers which enable us to store any seasonal surplus without additional running costs.

There is eco-accomodation provided in The Lodge, a 4 person self-contained flat, with extraordinary views south to the Mediterranean Sea and Morrocco (on very clear days! ).

There is a single room 'caseta' and a caravan to provide accomodation for volunteers who have their own 'PoopaDucha' - a separate composting toilet/solar shower unit.

Three ruins are also contained within the land, one a former 'cortijo' and the other two were 'naves'. Permission could be obtained to rebuild them.

We feel that the property has great potential and is suitable for a committed family/group, following in our footsteps, or could easily be converted to allow other possibilities, e.g health / retreat centre, or hostal. The farmhouse could easily be split into two smaller units.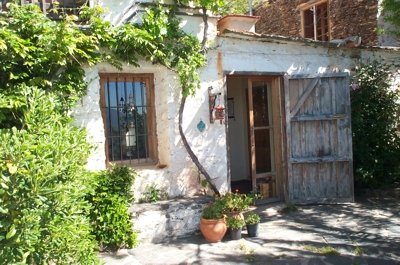 Front entrance to cortijo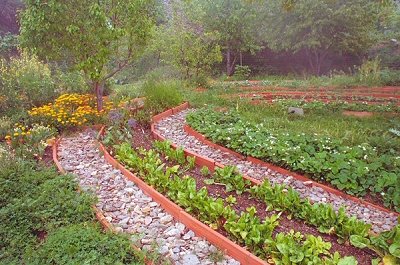 Previous vegetable garden.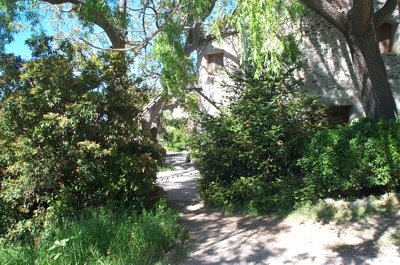 Entrance to patio.
Dining area looking at Kitchen.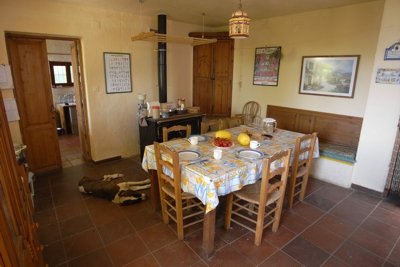 Dining area looking through to office.
Library.
Lounge.
Spiral staircase to main bedroom.
Main bedroom looking east.
Main bedroom looking west, french doors leading to roof garden.
Office looking south.
Downstairs bedroom, french doors to patio.
The Lodge (letting flat) living area.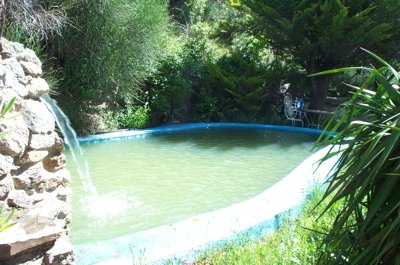 Swimming pool, part of irrigation system.
Balcony of The Lodge.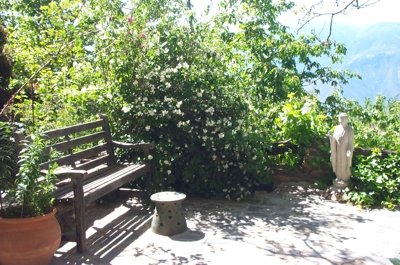 Eastern end of patio.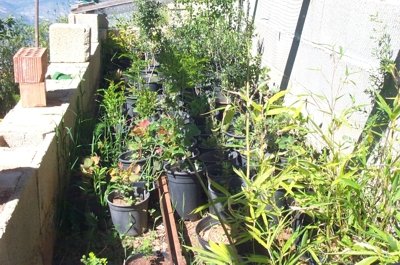 Plant nursery.
Reservoir, full to the brim!
Ruin of cortijo, ready for development!
View south from ruin, meditterranean sea in distance.




House and buildings
The cortijo is mainly of a solid stone structure and parts have existed for about 300 years. The front door is south facing and is surrounded by a patio area. A raised herb bed is opposite the front door, as is our experimental solar oven.

Kitchen/Diner:
The entrance leads into a small hall area which adjoins the open plan kitchen and dining area ( 6.5m x 4.5m ). Usually meals are prepared with the gas cooker, but a 'Lacunza' wood-fired range is available for use during the cooler months.

Larder:
The larder ( 3.3m x 1.4m ), containing a gas fridge with small freezer, is accessed from the rear of the kitchen. This is well shelved and has a small window on the north side for ventilation.

Office:
A door, to the west leads to our office ( 7m x 3m ). This has a large south facing bay window and a smaller window to the west. There is a small wood burning stove in the centre of the western wall for winter use. Internet access is provided by a radio link, currently operating at 600bps. There is also an old wooden door leading directly to the patio. This room was previously used as a bedroom.

Lounge/Library/Snug:
Leading to the east of the kitchen is the library/lounge area ( 6m x 3.5m ). This has south facing french doors leading onto the patio. There is a satellite TV connection which allows access to all free-to-view english channels. At the rear of this L shaped room there is our 'snug' ( 3m x 2.5m ) containing a fuel efficient cast iron wood burning stove. Super cosy for the winter!

Bathroom:
A door from the left of the snug leads to the bathroom ( 3m x 2.3m ). This has a roof light and a small window to the rear. There is a full size enamel bath incorporating a shower, a tiled sink unit and a toilet.

Downstairs bedroom:
A door to the right of the snug leads to the downstairs bedroom ( 3.5m x 4m ). This is currently used by our teenage son, hence the decorations! There are french doors leading onto the patio on the south side and a window to the east.

Upstairs bedroom:
A spiral staircase leads from southern end of the lounge to the first floor bedroom ( 6.5m x 4.5m ). This has a small window to the east, a window to the south, incorporating a staned glass panel, and french doors to the roof space in the west. A wood burning stove is built in on the west side.

White house:
A small white extension houses the washing machine on the roof space. Hot water comes from either the solar hot water panel or from an instant gas water heater.

The Lodge:
The lodge is our self contained letting accomodation. It is reached by a path at the rear of the farmhouse and is situated on the first floor of the western half of the cortijo. It consists of two twin bedded rooms, a lounge/kitchen dining area, a separate bathroom and a south facing balcony. See the website http://www.holisticdecisions.com/thelodge.html for more details.

Workshop and Solar room:
To the rear (north) of The Lodge are two outbuildings, the rightmost is of solid stone construction and is currently used as a small workshop. The other, the 'Solar room', is stone faced and houses the batteries, inverter and regulators. These together with the solar panels and wind turbine provide power for the house and The Lodge.

Volunteers:
Accomodation for volunteers is provided either in a 'caseta', a single room solid stone room ( the chicken coop many years ago!) or in a caravan. There is a separate building, the 'poopadoucha', housing a composting toilet and a solar shower.

Ruins:
In the south western corner of the land there are two small ruins which could be renovated as additional buildings. We previously had permission to build a 'store' area but this has now lapsed. About 5 minutes walk above the main cortijo there is a ruin of another cortijo. This could be renovated as another dwelling. We have spoken to the authorites about this and have been told that they would have no objections if we applied for permision to rebuild.

Nursery:
To the west of the house is our nursery area, where we start off each years vegetables and grow various trees and shrubs.

Land




Semilla Besada is situated within the Natural Park and the total land area is 12.5 hectares ( 31 acres ). This is comprised of 8 parcelas, Nos: 121, 122, 123, 124, 132, 136, 155 and 156 all located within Poligono 6. The actual map co-ordinantes are Lat. 36° 56' 8.58" N, Long. 3° 27' 23.35" W so you can locate through Google Earth or similar programs.

The farmhouse is positioned within a fenced area of about 2-3 acres. Within this area there are many fruiting trees / shrubs ( cherries, plums, pears, apples, jujubes, persimmons, grapes, azeroles, quinces, medlar, figs, eleagnus..), nut trees ( chestnuts, walnuts, almonds, hazelnuts, young pistachios ), 5 annual vegetable areas, a perennial garden ( containing strawberries, raspberries, saffron crocuses, artichokes, asparagus, cardoons, herbs and bee plants), many shrubs with beneficial properties e.g. wormwood ( parasite cleanser for sheep ) and an abundance of indiginous plants. Many fodder trees, such as 'Gleditsia Triacanthos', and nitrogen fixing species such as Bladder Senna have also been planted. This area also contains our plant nursery, solar driers, solar oven and all animal enclosures. Two small ruins are located in the far eastern corner of this fenced area. In 2001 we obtained permission to renovate these to build a store/workshop. This has now expired but should be easy to re-instate.

An area above the house where the wind turbine is situated is planted to mainly walnuts with a few cherries. Just above this area is the large ruin of a cortijo with the access road ( currently unpaved) and several mature chestnut trees to the north. To the south and west are several large terraces with easy possibilites of being irrigated. We have permission to enclose the whole of this area below the road. The Natural Park have told us that they would not have any objections to us renovating the ruin ( even moving it to a lower terrace! ) provided that certain guidlines are followed to ensure that it will resemble traditional buildings e.g stone construction or stone faced.

Services
We pay no fixed annual sums for services since none are provided by the town!

Water:
We are lucky enough to have our own spring for house drinking water with a tank of about 12,000 litres capacity. Two other springs exist on the land which we use for irrigation. We also have good acequia water rights from the acequia 'Encinillas' for irrigation water. There is a lined reservoir of about 600,000 litres for irrigation and a smaller 'alberca' which we also use as as swimming pool of about 30,000litre capacity.

Electricity:
We generate all our own using solar panels ( 4 x 55W and 2 x 75W ) plus a 600W wind turbine.
This is stored in lead acid batteries of 600Ah at 24V and were bought new in 2008. They have a guarantee for 10years.
There is an sine wave inverter to convert 24V DC to mains quality 240V AC for the house and out buildings. There is a back-up generator in case of long periods of no wind, nor sunshine.

Sewage:
The house and Lodge have water closets which are served by a septic system. There is a composting toilet in the 'Poopadoucha' for volunteer use.

Council Tax:
We pay an annual figure of about 60 euros for the privilege of living here.

Road:
The road is private although supported by the local town council. We pay about 30 euros a year for its maintainance. This year we are paying an extra 60 euros as our contribution to extending the concrete portion. Currently about half of the road from Lanjaron is concreted and the other half is dirt.

Internet:
We have a radio connection which currently costs 33.64 euros per month.

Television:
There is a satellite dish capable of receiving all British free to air channels. Spanish TV is available with a small antenna.

Livestock
Sheep: We currently have 5 ewes, and a lamb. Four of the ewes are of a milking breed. They have a stone built house within a fenced yard and are moved around the land using metal hurdles or an electric fence to enclose them.

Chickens:
Currently we have a flock of about 20 birds of a rare Andalucian Blue breed. These have been selected, after much trial and error, since they are a breed that easily go broody, make good mothers, are good egg producers and will make a fair meal. They have their own solidly constructed house within a securely fenced yard. There are also several broody boxes with runs for mothers. They are normally allowed to range freely over the land for the latter part of each day.

Geese:
Currently 2 gillies and one male. These have their own securely fenced area with nesting boxes and their own pond. They are normally free ranging for the mornings.

Rabbits:
These are housed in a 'warren' and currently there are four does and a buck.

Bees:
Currently have two beehives situated within our land a little higher up the mountain than the house. There is a centrifugal separator and enough spare boxes, supers etc to form at least 5 complete hives.

Land plans

Land overview showing all the 'parcelas' that comprise Semilla Besada, click here.

A floor plan of the house and The Lodge, click here.

* Diagram showing layout within the fenced land contained within parcela 136, click here.

* Planting schematic within Chicken Yard, click here.

Price: 250,000 GBP, ( 300,000euros 1.8.10 ).

This price to include:
all furniture, linen, crockery etc for The Lodge so that it is ready to let,
most furniture in the house,
garden tools, rotovator and attachments,
electricity generators, one smaller petrol and a larger diesel model,
all livestock - chickens, sheep, geese, rabbits and bees,
all livestock equipment i.e. centrifugal separator for honey, spare supers etc for beehives, Electric fence and solar charger. Broody houses, chicken runs,
equipment for internet connection,
satelite for english TV,

Contact
For more information or to arrange to view this property, call David Edge at: (0034) 958 347 053 (home) or (0034) 620 360 927 (mobile), or email david@holisticdecisions.com
Or visit our web page at:
http://www.holisticdecisions.com/sb4sale.html.










Click here to return to previous page




Home Page

<! - - GO BACK LINK - - > <! - - END GO BACK LINK - - >